FAQ = Frequently Asked Questions
Where is Lotus Dermatology?
The clinic is located on Level 5 of the Hunter Mall Chambers building at 175 Scott St, Newcastle. It is on the mall side of the train tracks in front of the Newcastle Harbour Tower.
Click here to see a location map on our Contact page.
Business Hours
Our phones are operating Monday to Friday:
08:30am - 11:30am
12:30pm - 4:30pm
You will be given a specific appointment time, please attend at that time. The clinic will be open.
Is there Disabled Access?
Certainly. Vehicles are able to drop patients off at our doorstep via the Hunter Street Mall.
See the map below for directions.
Click on the map features for more details.
Where can I park my car whilst I have my appointment?
See the map below for parking locations and general information about parking in the Newcastle CBD. The larger car parks that are marked on this map are a cheaper and easier alternative to the on street parking.
Click on the map features for more details.
I don't have a car, how can I get to Lotus Dermatology?
Train
Click here for the Central to Newcastle timetable

Taxi
Call 13'CABS'
Bus & Ferry
Click here for the Newcastle Bus and Ferry timetables.
Note: There is a FREE FARE ZONE that extends from Wickham to Newcastle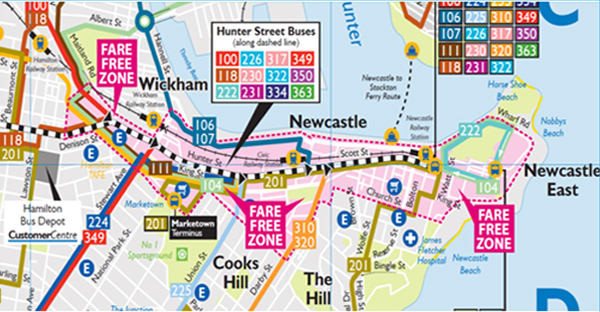 How do I make an appointment?
Call us today on 02 4929 3400
Does Lotus Dermatology bulk bill?
Sorry, we are not a bulk billing practice.
Can I get a Medicare Rebate?
If you have a referral from another Doctor, you are able to claim your medicare rebate.
Can I claim with my Private Health Fund?
If you are seen or treated as a patient in hospital you will be eligible to claim with your private health fund.